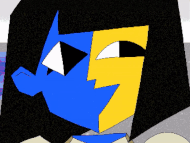 "These are the utmost grand of days! This is going to be so, so- awful!"

This article contains spoilers for Temptation Stairway. Please read at your own risk.
Turrón (stylized in all caps as TURRŌN) is an item sold to Ena by the Merchant in Temptation Stairway. It specifically resembles a Turrón de Doña Pepa.
Later in the episode, Ena gifts the Turrón to The Shepherd and is given a Blood ID in return, granting her access to the Holy code ocean behind the Hourglass Meadow's Dog Conservatory.
Trivia
The dance the characters do while repeating the word "turrón" is a reference to the music video of "Once in a Lifetime" by Talking Heads.[1][2]

Upon closer inspection of the Turrón's model, the candies covering the Turrón Ena receives have grainy faces on them. These faces are very similar to the faces on the flowers in the Hourglass Meadow Dog Conservatory.
In the real world, turrón is a dessert that is commonly enjoyed in the Spanish speaking world, including in Joel Guerra's home country of Peru.[3]

The turrón given to Ena resembles a Turrón de Doña Pepa, a dessert prepared for Señor de los Milagros or Lord of Miracles, a religious procession in Lima, Peru. This seems to be represented with the arrival of The Great Runas, who appears to have religious significance in the ENA universe and also appears in the same area that Ena receives the Turrón.
Gallery
References