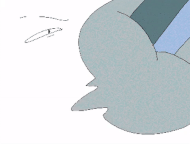 "That dog looks like he has something to say..."

This article is a stub. You can help the ENA Wiki by expanding it.
Shoryo is one of the new characters set to appear in Dream BBQ.
History
Shoryo's first mention was in a snippet of preview text on a Joel Guerra Patreon post titled "ENA: Dream BBQ Preview 20" made on June 15, 2022. However, their appearance and any other details other than their name are currently exclusive to Joel G. Patreon members with at least a $2 per month membership.[1]
Trivia
The Shepherd is another character whose name was revealed through a public aspect of Joel Guerra's Patreon before their episode debut. It is mentioned in a post title for a song preview during Temptation Stairway's development.

The Shepherd's appearance was also revealed before the Patreon post[2], though it is unknown if Shoryo is any of the unnamed Dream BBQ characters that have already been publicly revealed.
Gallery
References