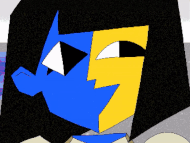 "These are the utmost grand of days! This is going to be so, so- awful!"

This article contains spoilers for Temptation Stairway. Please read at your own risk.
Gabo is a minor character that appears in Temptation Stairway.
Appearance
Gabo is an adult humanoid with a green afro who wears a pink ballerina-like outfit with a pink tutu and pink leggings. They carry a plate in their left hand, of which Mariya is placed upon. They have black, socket-like eyes, as well as a brown beard and eyebrows.
Trivia
Gabo speaks in Japanese-accented English accompanied by discordant notes from a piano.
Gabo ends all of their sentences with a resounding "YES."
Gabo is the second character voiced by Hanai Chihaya, who also voiced Robert in Extinction Party.
On a Twitch stream, it was revealed that Gabo's design was over 2 years old. The design was unused for some time until the development of Temptation Stairway, to which it was used for Gabo.
Gabo and Mariya are Joel Guerra's favorite ENA series characters.[3]
Cultural references and inspirations
During a Twitch stream, it was revealed that Mariya and Gabo were based on a religious painting. It is possible that they are based on the painting Salome Bearing the Head of St. John the Baptist, a painting which depicts Salome holding the head of St. John the Baptist on a platter.
Gabo's line, "Drink the blood, and smoke the banana", is based on a similar line from the game Space Funeral, in which an NPC says, "I like to drink blood... and smoke the weed!"[4]

The quote was originally going to be the exact same as the original source, though the use of the word "weed" brought up worries about YouTube's Rules & Policies, so it was changed.
Gallery
References