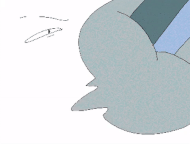 "That dog looks like he has something to say..."

This article is a stub. You can help the ENA Wiki by expanding it.
Brian Zavala, also known as Mizu Wolf, is a writer and 2D animator. They are the post-production editor for the ENA series.
Trivia
They are also credited for making the background in the Dream BBQ teaser and the graphic design in the Dream BBQ game trailer.
During an ENA Day 2022 Twitch stream, it was revealed that art originally made for Joel Guerra's birthday[1] had become concept art for Dream BBQ due to it being similar to a developing area within the game.
Gallery
External links
References